Dealing with Pet Stains
WEDNESDAY, JULY 22, 2020
Pet Stains in Your Carpet
Big or small, pets are an adored part of our families! They come into our homes all innocent and steal our hearts. We know that kids and grandkids make messes, but pets are right behind them making their own. Whether it is spilling drinks, tipping over a vase or peeing on your carpet or furniture, they can make it worse! We offer the best pet stain removal Columbia has to offer you!
Dealing with Pet Stains
If you have juice spills or dirt smudged into your carpet, we have specialty stain remover! We have had so much success getting out tough stains with our basic cleaning method, but if we can't get it out with that, we have some other tricks. Up our sleeve is an arsenal of stain removers that can get out red, brown, black, purple, orange, really any color you've got! Chem-Dry of the Midlands kicks out tough stains out of carpet, upholstery, rugs and much more. That's why we say, "If we can't get it out, no one can!"
Pet Urine in Carpet
If your pet pees on on your couch or carpet, then you have got a bigger issue on your hands. Urine is a bit tougher than other stains, because it crystalizes and the stains go deep down into the fibers. We use a process called P.U.R.T. (Pet Urine Removal Treatment). P.U.R.T. contacts the source of the odor and causes a chemical reaction then destroys the pet urine odor.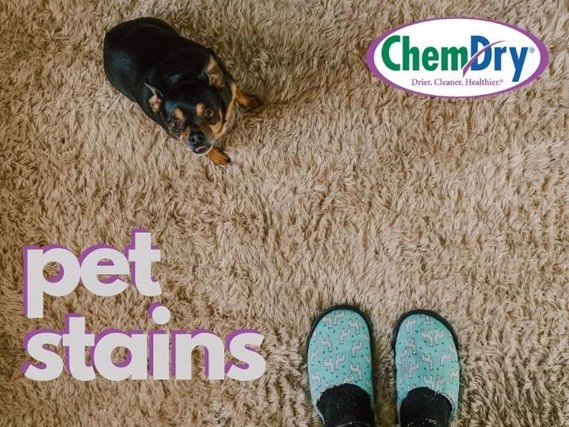 BACK TO BLOGS